So you wanted to know more about me,huh? :)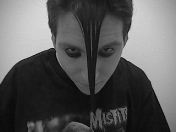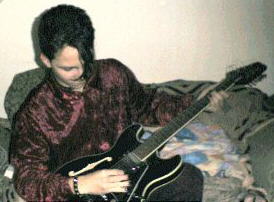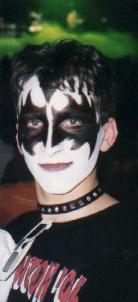 Well,here is some information about me,but after all it's just a poor excuse to show off my pics with the stars!!!
My name, as you might guess, is Paolo, and my birthday is on the 30th of August. Presents, emails and any kind thought is always very welcome, thank you very much. Oh, yes, 30 August of year 1976. So now you know how old I am. I saw the light of heavy metal when i was 15, and suddenly my hair grew long, studs appeared on my wrist and my ears started aching from the loudness of bands such as Manowar, Sepultura, Metallica. Then, at 20, I saw another light: PUNKS NOT DEAD! I turned to faster music, leaving behind Manowar in favour of The Misfits, The Ramones, The Wildhearts and zillions other bands.
I have always liked glam a lot, too, so Alice Cooper is my idol and Skid Row used to be very cool (until crap grunge mania hit them).
I am an avid concert goer and I always try to see live all the bands I like at least once. Sadly, some of them tend to split shortly after (read: Sepultura, Ramones, Tampasm, 3 Colours Red....), but, hey, don't blame it on me! :)
As you see from the pics down here, I also love meeting stars, especxially when I find out that behind the star there's a person, with whom I can talk a bit and have a laugh (and a beer too!). Speaking of photos, some always say that I expose myself too much to the camera... what can I say... it's true! I guess you can call me a kind of exhibitionist, but, hey, why not? As long I don't start going around nude and flashing... I guess that appearing in front of a camera really suits me! And from the pics you see up there, I like changing my look according to the things I'm doing. Usually I prefer being a "glamster", when going out, but in everyday life I'm more like a punky guy, with my studded collar and the ever-present hooded sweatshirt over a t-shirt (and jeans of course!).
Oh, ok, if you're here maybe you wanted to know more of me... well, I live in Monza, Italy, a very cool town, a few kilometres from Milan, and in Milan it's where all concerts are and cool people live. I have 4 part-time jobs to pay for my vices,and my vices are many: music (Top 3: Misfits, Alice Cooper, Ramones), cinema (Reservoir Dogs, The Untouchables, Falling Down), books (STEPHEN KING, he is God, and in Italy it's Valerio Evangelisti), travelling (Uk,Uk,Uk) and lots more, but they don't include drugs. Heavily drinking... YES :) I also like the net of course, and building up homepages. I'd love my Livepics page to become a landmark in concert pics, something people remember of and come back checking out. The Tampasm page is already a landmark anyway, being the one and only Tampasm page on the net! :)
The things I don't like... well I always try to be positive and like everything, so the main thing I hate is just one: politicians. I won't explain why cause after all I hate politics, too, and therefore talking about it annoys me. But that's my main hate. Then comes techno music and stuff, but they are in another level of "hate", if compared to politicians, so I won't make a list of things I don't like, cause I don't think anyone cares anyway!
Uhm, well, I suppose you have already skipped the part up here cause you wanted to see pics, uh? Well, if you wanna know more about me just ask me at my email address thepunisher@antisocial.com or even contact me by ICQ, my uin is 5718560 .

---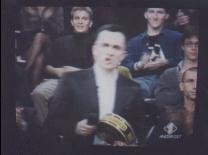 FAME!Spot me on tv!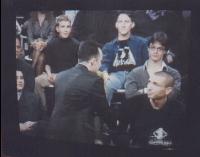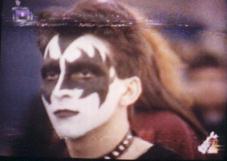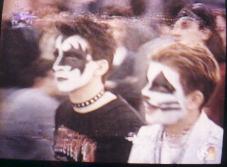 ---
Now,let's go with pics (click on them to see a bigger and much better-defined version...)!
(Newer pics will be in the box down here until they are scattered around the page the following time I make an update and put new ones here!)
---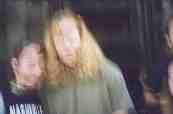 AAAARGH! The princess of "I'm a shit at taking pics" strikes again! And once more with a meet-once-in-a-lifetime star! Mr. Dave Mustaine of MEGADETH! Oh damn! Anyway,he is really a nice person, don't believe what the magazines say. He treated me with respect and was not an annoyin guy at all!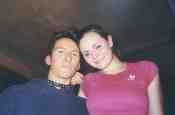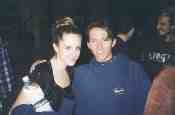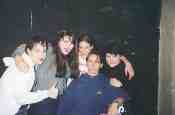 Wow... The Donnas! The only ones who can take Tampasm's place in my heart. they rock like hell! Here I am with Donna A (strangely looking like the twin of my first girlfriend!), Donna T, and in the big, sleazy pic, Donnas F and R in the middle, while at the borders are two members of almighty Bratmobile. What a night!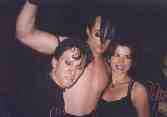 I told you that the second time I'd meet Jerry Only I'd try to look even more like him... so here's proof, but I can still improve. Next time Jerry, next time... (Ps: NO, I don't know who the girl is... she just jumped in while I was having the pic taken!)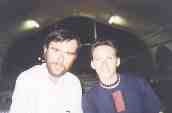 Just to make a change, Valerio Evangelisti is not a rockstar. But he's a star in his own field, ie literature. He's my favourite Italian writer and everybody should check out his Eymerich books. I met him at a Sepultura concert, how cool is he?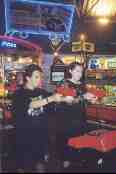 Me and Cat Black, former drummer of Tampasm! What a night it was, catching up with her and playing videogames at the Brighton Pier... hope to do it next summer too!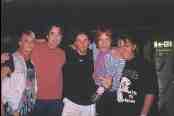 Buckcherry!!!!!! Well we all look like the whole band, but actually only two members are here, JD and Yogi. It's your quest to find them out...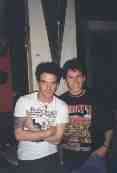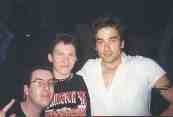 3 Colours Red mainmen: Chris McCormack and Pete Vuckovic. Why did you split up, guys? I miss you, you know!
From Detroit, the Demolition Doll Rods! From left, Margaret Doll Rod, Christine Doll Rod, (me), Danny Doll Rod. Just gotta love bands who follow The Ramones' footsteps in naming...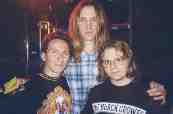 From Plymouth,Cornwall,Uk... Gary Stringer of REEF! A little before taking the pic with us, he was complaining with the roadie that too many girls wanted to kiss him that night. The roadie kindly told him to f*ck off...!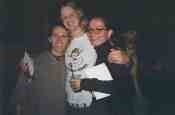 Dala, the new guitarist of the HELLACOPTERS. The girl is usually known as "Claudia from RockFM". So now you know it... (usually she looks much better,anyway!)
And from the Gods of Metal festival 99, come these pics with Skyclad and Angra singers. They are both really very nice and kind people, and Skyclad play a great music!
---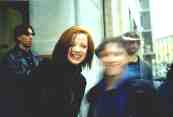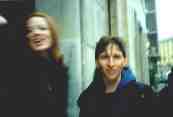 Me and Rock Supervixen SHIRLEY MANSON!Wow!!!!!!!!!!
(Had to put two pics cause they are both crap!If i put my hands on the girl who took them,she's dead...)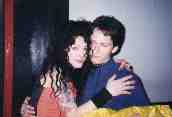 Me with one of the coolest bands I've ever met,PIST.ON!They are really nice people,and like to have a laugh!Look at how much Burton (on the left) is laughing...it's cause he's grabbing my ass!He was really enjoying it!On the pic on the right,here's an "intimate" pic of me and Val.ium,their bass player...wow!!!My quest for kissing bass players goes on,and she posed SO nicely...thanks!You're so very pretty!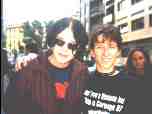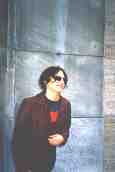 BRIAN MOLKO,he of Placebo fame!!!!!Pity he was wearing big sunglasses!There's a pic of Brian alone,too,for all the Placebo fans coming here!!!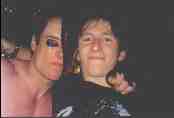 Mommy,can I go out and kill tonite...with my new mate JERRY ONLY,also known as The Misfits' bass player?They said we look like twins in this pic,minus the eyeliner and hair...mmm...maybe I'll work on it...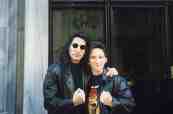 I still can't believe that I've met Joey DeMaio of MANOWAR.He's the best bass player in the world (I dare anyone to say the contrary!),and he's been the frontman of my favourite metal band for ages...so it was so pleasing to meet him and to learn that he's such a great guy!He made sure everyone was happy and shook everyone's hands!He's great!!!
IAN KILMINSTER!!!!!!!!No,hey,you are NOT raising eyebrows asking "Who?",are you?People would kill to get a pic with LEMMY in his Valentine's Day Massacre outfit!!!I did it!!!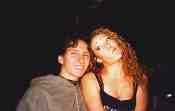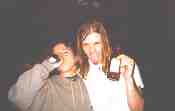 NASHVILLE PUSSY are also known as "Motorhead with tits",so here I am with the defining part of the band...the owners of the tits!Ruyter and Corey (oh,you'd never guess she's 1 whole foot taller than me,huh?),then drummer Jeremy,who kept offering me spanish cerveza!Cheers man!And then,a little "I'm a happy guy" pic :)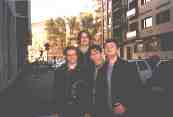 Heyyy!!!!It's me with the MANIC STREET PREACHERS!!!!!James Dean and Nicky joined me for this pic!I just have two things to say:
1-No,I don't know what Mr.Bradfield is looking at,but it's funny :)
2-No,the one on the left is not a new Manics member (luckily!),he's just a friend of mine.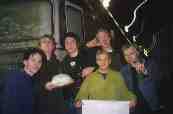 These guys are GLUECIFER,a nordic band come to Italy to kick some ass and show us how to rock and how to roll!!!Their concert was very good,I was blown away by them!So,here you can see their drummer,then guitarist Captain Poon and bassist Jon Average.And,then,my friend gabriele and the Psycho Roadie From Hell (the one on the right),he's the coolest roadie I've ever talked to!And he had an Hellacopters jacket,so he was even cooler!
Me with ace Scottish band URUSEY YATSURA.Too bad the singer (Graham) was cleaning up the stage when i took this,but,hey,I can pretend I'm the new singer!"Kewpies like watermelons..."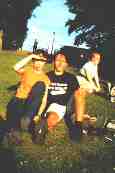 Me and JENNIFER BISHOP,god-bassist of Tampasm.Wow,this star-meeting was absolutely the best I ever had,since we met in a park in her hometown and had some beers and fun...too bad she had a date with herboyfriend that night!Grr...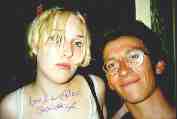 Hey,honey...mmm..CHARLOTTE HONEY,singer of Tampasm...a real devil in an angel's dress!
(Hell....the pic turned out so bad...look at my neck!Who am I,Mister Fantastic of the fantastic four?The one who can stretch his body so much...mmm...wait,wait,after all i MAY be him...I can stretch a lot!Ah!)

Me with mr. BLACKIE LAWLESS of Wasp!Wasp stands for We Are Sexually Perverted,so now you know.

Me and JOHN CONNORS of Dog Eat Dog.He's the most friendly guy in a band I've ever met,he even let me get to his concert for free!!!Thanks,John!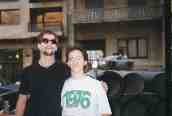 And SUGAR RAY,too,are very friendly guys!They let me to the show for free,too!!!Sadly,in this pic there isn't Mark,the sex symbol all girls were here to see!Sorry,you'll be luckier next time!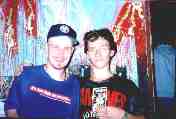 And,here I am with THE VANDALS' guitar player,Warren Fitzgerald.Yeah,he's the wild one who gets naked during their concerts,when they usually play a Grease cover or a Spice Girls cover.If you have ever seen a Vandals concert,you know who I am talking about...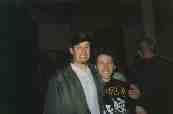 ..and here is the Vandal's singer, Dave Quackenbush! He's smiling cause had just given him the pics i took during their last concert!I've seen the Vandals zillions of times and I love them to bits!!!They rule!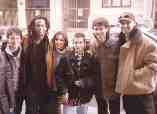 Here I am with SKUNK ANANSIE guitarist and bassist,Ace and Cass.They were very cool and funny guys!Too bad Skin wasn't with them that day,especially cause the girl you can see in the pic really wanted to "do" her!Well,next time,maybe!
---
Well,that's all for now,as time goes by,as I kiss more rockstars,I'll put my pics here.Hope to hear from you all,feel free to write me any question about my personal life!I'm on sale!!!

Back to my Tampasm homepage

Back to my Live Pics homepage