THE GIRLIE SHOW
click here if you want to see the big pic taken for this article!
The normal Brighton tour takes you in the beach and the pier.Alternatively,you can let glam vixens TAMPASM show you the park they shag in,the shop they buy their porn in,and where exactly they go with "no knickers on"....
The rock chicks are perched on a promenade wall in sun-splattered Brighton.With skirts so high they practically qualify as headgear,the feisty foursome are laughing their tights off discussing the relative Shag Ratings of Aerosmith.
"Joe Perry is the only 50-year-old I'd fuck"announces chameleon-haired bassist Jennifer.
"You'd shag Steve Tyler,too," goads the singer they call Charlotte Honey Avengylene-if they're not in a hurry "And his daughter".
Completed by guitarist Olivia and drummer Cat,Tampasm are about to spoil us with a full-on guide to the town they live,party and generally rock in.This is Their Brighton...
"We can tell Kerrang readers how to track Tampasm down on a Saturday night" smirks Charlotte "I usually walk down this dodgy back alley at 11,with a PVC dress on and no knickers.And I like being taken by surprise."
As Tampasm get their pictures taken on the beach,they draw the attention of: (A) four German students,(B)a group of blokes who pay to view them via a promenade telescope,and (C) Pissed Bloke.Only Pissed Bloke has the gall to approach the ladies,but marches back a minute later muttering "No joy there...".
Tampasm totter back over the stones in their heels,and jubilantly head for the Palace Pier.It's got arcade games,a funfair on the end,and some reasonable pubs in between.
"Jen and I came down here two weeks ago" says Charlotte "I committed brutal karate kung fu retard kick-murder on all the machines,which always terrifies her".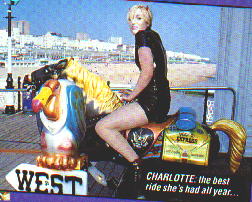 After Charlotte and Jen enjoy an electronic pony ride,we haed back to the promenade.Every minute or so,Tampasm attract attention of the "Hello,darlin!" variety. "All this attention" mumbles Charlotte "and I can't even get a boyfriend".
"Everyone except Olivia got dumped when we signed to Mercury" smiles Cat "And we've had trouble pulling ever since".
That said,it appears the German students are following us.In an attempt to deflect them,Tampasm stomp along yelling "What do we want?DYKES!When do we want them?NOW!".
It doesn't work,so we hop on a Guide Friday tour bus,perching ourselves on the top,at the front."Come on,motherfucker,drive!" yells Charlotte,rebelliously smoking despite the "No Smoking" sign.
Brighton,to Cat,is "a mini-London"-you can get anywhere by taxi in 10 minutes,apparently."But it's full of retired old people" says Jen " You try and go shopping,and there's some old women dying on the cheese counter.Very inconvenient.Still,there's quite a surf-fest in the summertime.Lots of sexy blond men wearing very few clothes".
The first thing we drive past is the Sea Life aquarium center.Next are The Hungry Years and Concorde nightclubs,both of which Tampasm recommend.Here's the PavilionTheatre. "Midget played there the other day" says Charlotte "Lovely lads,but I don't believe their stories about people throwing jellybeans at them.And they can have a fight if they want".
On seeing a park by the Theatre Royal,Charlotte has a gleeful tale to tell. "I had sex in that park.And his sister walked up while we were in the middle of it.She was still walking the dog at the time..."
Alllll-righty.Next point of interest is the Skid Row bar on Preston Street.It plays dance music,but Tampasm love the name.Charlotte identifies Alexandra on Western Road ("Where I buy all my kinky nurse's uniforms"),and Surrey Street's Sancho Panza ("The best bookshop in the world").We leave the tour bus at Brighton train station and walk down to Wax Factor.One of Tampasm's Favourite record/book stores,it stocks "cool old rock stuff".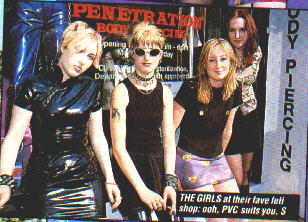 A right into Sidney Street brings us to Angel,the fetish gear/body piercing emporium where Charlotte and Jen work.The products range from "rip-offs of old punk shirts" for a tenner,to corsets,zipped bras,and a chainmail dress for about £100.Or you ould always get a piece of metal shoved through your foreskin/'clit hood' for £25.Further along the street is David's Book Exchange. "They do really good porno books" says Charlotte "My current collection includes 'Teenage Nympho' and 'Velvet Things'..."
This sauce being thirsty work,we make our way to "THE metal pub in Brighton",The Druid's Head.Tampasm crowd around the Jukebox,lining up Skid Row,Guns N' Roses,Megadeth and Ugly Kid Joe.
Summer,then?
"Waxing is a summer topic" offers Olivia. "Jen waxes her butt".
"That's only because Olivia likes to fuck it",parries Jen,cleverly.
Last year,Tampasm went on a band holiday to Pevensey Bay. "We rented a little cottage" recalls Charlotte "Ran out of food after two days and ate raw spaghetti for the rest of the week".
Highlights included 'someone' going to the beach with a young man and returning with "pebbles in her knickres",the crate of beer they consumed every day,and Charlotte discovering "the house had very thin walls".Loos like it'll ba a while before Tampasm are sick of each other.
"We really are fantastically tight" ,giggles Charlotte.
Madam,that's as maybe.It's still your round...

Back to the Interviews Page

Home