Tampasm Discography
The Tampasm discography will never be long enough,I think I could never have enough of their music...but for the time being,here is what they have produced in their short-lived but emotion-filled career...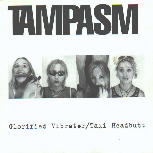 GLORIFIED VIBRATOR - single - vynil

Tracklist:Glorified Vibrator,Taxi Headbutt.

Stockwell records,1997
---
LUSH LIFE - A generation Label compilation - vynil

Tracklist: TAMPASM - Lush Life ; ELEPHANT - Three piece ; DESIGNER - Disco Dollies ; AMBULANCE - Teenage Mouthful.

A Generation Label,1997
---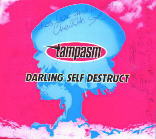 DARLING SELF DESTRUCT - ep - cd

Tracklist:Darling Self Destruct,Glorified Vibrator,Taxi Headbutt,My Contrived Love.

Mercury,1997
---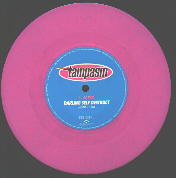 DARLING SELF DESTRUCT - single - vynil -in CORAL PINK!

Tracklist:Darling Self Destruct,Blindsight.

Mercury,1997
---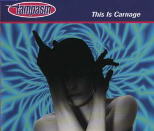 THIS IS CARNAGE - ep - cd and vynil

Tracklist:This is Carnage,Hardcore Romantic,Khalia,Intravenous Lover.

Mercury,1997
---
NAKED ON ROLLERSKATES - BOOTLEG LIVE TAPE!

Tracklist:Naked on Rollerskates (Rehearsal),Hardcore Romantics (Rehearsal), Lush Life,C'est Larvae,Darling Self Destruct,Intravenous Lover,Kahlia,Plague of the Decade,Naked on Rollerskates,This is Carnage,Talk Dirty to Me.

Note:this was recorded at the Rock Exposure Cafè in Birmingham on 17.08.97 (yeah I was there that night too,and you can actually hear my scream before "Talk dirty to me"!).I got the tape thanks to Shane Reynolds,and,well,we wanna still spread the Tampasm word!So if you want the tape,just email me and we'll find a deal (I love trades!).Of course no money will be made out of it!
The bootleg is so good and contains unreleased tracks,and the world must hear it!!!
---
Tampasm songs have happeared on a couple of compilations,too,but they were all songs off their cds.Surely the Club Kerrang August '97 has a track (Hardcore Romantic) on it,and then there's an indie compilation with Blindsight on it. And there are the promo cds of Darling Self Destruct and This is Carnage, which are a bit difficult to find (I actually had these scans, as well as the Lush Life one, from James and Meg - Cheers mates!)
But this is the complete discography of Tampasm anyway,and I beg anyone with a bootleg to contact me,so we can hear more of Charlotte blabbering between songs!
---
Home