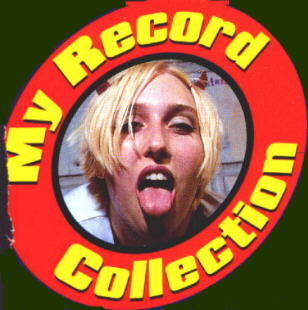 Charlotte's "My Record Collection"
FIRST RECORD YOU BOUGHT?
The Monkees.I donít remember exactly what song it was,but i used to sleep with the cover under my pillow.
I kissed every one of The Monkeesí faces every night before i went to sleep.Iíd kiss Davey twice cos he was my favourite.My Mum got that single for me.
LAST RECORD YOU BOUGHT?
Placeboís album and Radioheadís "Ok Computer".And the next one Iím going to buy is Suedeís "Coming up".Iíve always loved them.Iíve been into metal all my life,but iíve always been a bit of an indie kid as well.
THREE ALBUMS YOUíD GIVE FULL MARKS TO?
Public Ebemyís "It takes a nation of millions to hold us back"."The best of the Supremes",ícos thereís not a bad song on it.The New Your Dollsí first album.
And obviously anything by the Manics:I love all of their stuff,but especially "The Holy Bible".Itís very depressing, but i like that.I like "Gold against the soul" too-i liked it when they went really rock.
RECORD YOUíD PUT ON BEFORE A NIGHT ON THE RAZZ?
Our single,"Darling Self Destruct"!!!
No,actually i have a compilation tape that i put on before i go out.
Iíve got a big house,so the band all come round my place before we go on a big night out.My tapeís got everything on it:EMFís "Unbelievable",Skid Rowís "Get the fuck out",a bit of N.W.A....
We always take a really long time to get ready,so by the time weíve heard that lot weíre in the mood to go out and bottle a few people!
RECORD YOUíD PUT ON ON THE MORNING AFTER THE BIG NIGHT ON THE RAZZ?
(Famous 50ís chanteuse) Billie Holliday-just to cheer myself up!But if Jenís round sheíll put on something like Guns Ní Roses.
You should hear out tour bus-itís all Megadeth and Metallica.Am I the Axl Rose of Tampasm?No,Iím not ginger.But I am a stroppy cow.
FAVOURITE RECORD TO HAVE A GOOD OLD BOOGIE TO?
In a club?It would have to be something pretty cheesy.I know,"Walk this way" by Run DMC and Aerosmith.I like taking my shoes off and dancing around a lot.Dancey rock chick,thatís definitely me.
MOST EMBARASSING REORD IN YOUR COLLECTION?
The Osmondsí live album.I donít want anyone discovering that when they come round my house.I think readers will pity me when they see that i have that record.Theyíll be embarassed for me.
Oh,and Iíve also got a load of shitty metal albums on vinyl that i got for 80p just down the road.Iíve got all this terrible Ď80s metal like Firehouse,Vixen and Cinderella.
RECORD YOUíD PUT ON TO SEDUCE A MEMBER OF THE OPPOSITE SEX?
Or the same sex-letís be fair about this!Normally I just turn the telly on when i get back home.Some saxophone solo usually starts up and ruins the mood.
Nine Inch Nails is great sexy music.When i was 15 or 16,Iíd always put it on when I was with a boyfriend.I was sure theyíd realize what kind of mood I was in.
Early Manic Street Preachers get me excited too-songs like "Stay Beautiful".
Back to Interviews page