Welcome to TAMPASM first shrine on the net!
"I feel like I'm on clouds the more you build your shrine to me"
-Hey were you foreseeing this shrine,dear Tampasm members?Hope you like it then!
(Last updated: 20 March 2000 - new LIVE page and video shots!)
---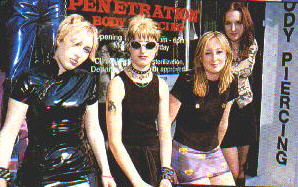 I first heard of Tampasm in June '97,when their amazing video started rolling on MTV (yes,sometimes they do good things!) and hit me.The video was really good,and the music (a kind of noise/street/punk) was even better. In August i was travelling with friends through England when i heard they were giving a show...we instantly ran there and saw them.Bloody good they were!So good,actually,that we went back the following night to see them again! I then got their cds and I think they are among the best bands England ever gave us.It was a sad day when in May '98 they split.This page is dedicated to this great band which will always live in my heart,hoping to make it live forever on the 'net,too.
---